This store requires javascript to be enabled for some features to work correctly.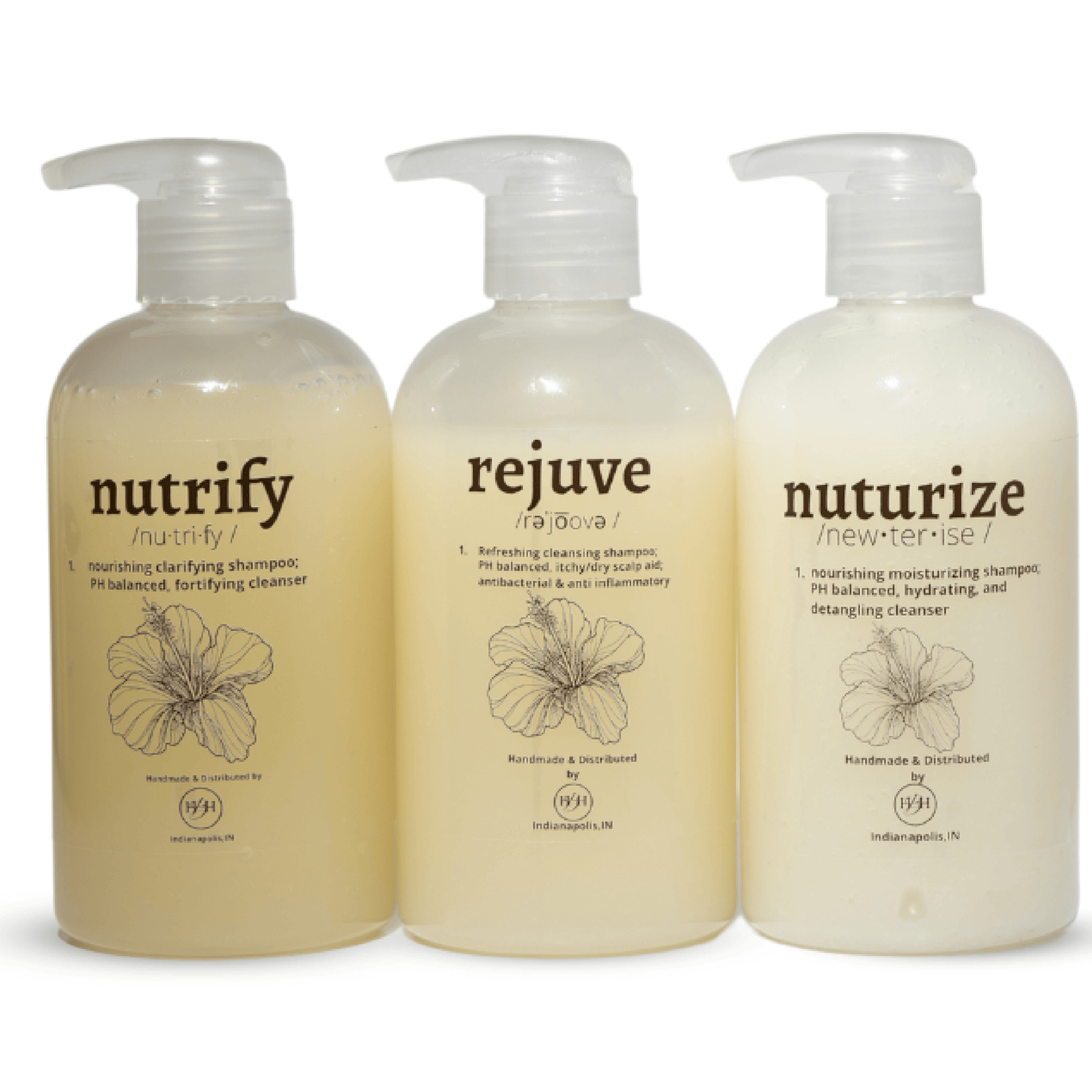 Our 3 part system improves the feel and health of your hair from scalp to tip! Filling your hair with the proper nutrients and hydration to prevent breakage and retain length
Discover hydrated hair
Our 3 part system improves the feel and health of your hair from scalp to tip! Filling your hair with the proper nutrients and hydration to prevent breakage and retain length
Discover hydrated hair
Let customers speak for us
Cleansing Trio
I used the nutrify, rejuve, nuturize and cultivator. I had to look on the website to see what order they go in. The only thing I would add would be numbers to know which order they go in. That would be my only fix. The shampoos are so good I didn't even need the cultivator/ conditioner. My curls have never looked so good!!!! I will be purchasing the larger bottles and telling my family and friends to purchase also.
Amazing results!
This oil really helps my hair thrive. It minimizes breakage and doesn't leave a "wet" or "watery" feeling that my hair can't stand in other products once my hair is dry. A little bit goes a long way and we always buy at least 2 bottles at a time because the family loves it!
My hair loves this!!!
This detangler is perfect for my dry hair! Because my hair tends to soak up moisture, my ends curl up tight and breaks off easily but this detangler minimizes shedding and creates the perfect "slip" for when I put my hair in twists. I don't worry nearly as much about how much hair is left in the comb when using it!
My hair is never dry anymore ( HAIR FERTILIZER)
I'm so glad i found this product i used to deal with dry hair but i can use this product for literally every style and it just takes it to another level making my hair just look so healthy and moisturized!
Multiple Purchases
I have purchased these products three times now and I LOVVEEE them. I suffer from seborrheic dermatitis and when I use these products my scalp is so HAPPY!! I look forward to wash day now.
Excited
Fast shipping. Excellent packaging. Excited to try and get some results with these edges I've been struggling with.
Great products to have at home and salon...
I definitely like the products, i have used it on my hair and my clients hair definitely got good results, body and shine with no other hair products in the hair othe then a heat protectant. Will be order the bigger sizes next.
In LOVE
It took me awhile to try the products bc I had braids and wasn't ready to take them out just yet lol. I first experienced the system in the salon and I was so amazed how my hair felt. I had to purchase it! My hair has been dry and I couldn't figure out what I need to revamp it. I bought the entire product line! I love it
I really like this product, I recently cut my hair off and have gone natural. I love how this product makes my coils feel soft and I only use a small amount.
Best Products for Healthy Hair Hands Down
I've tried and continue to use all of the HBH products! My hair is healthy, nourished, and fabulous. I highly recommend as the products, customer service, and all around HBH experience never disappoints!
HBH Trio
Honestly, this healthy haircare line exceeded my expectations. The fragrances of the products were amazing. The quality of the shampoo is top notch. All of the products are made with quality ingredients and produced a great lather to the hair and scalp.
HBH Trio
I love love love this system! I didn't know the importance of using more than one shampoo for my natural hair. The rejuve has a nice pore opening, fresh sensation that makes me feel like I'm actually CLEANSING my hair and scalp.
Worked great on different curl types and made wash day much less stressful!
THE RE-EDUCATION ABOUT HEALTHY, BEAUTIFUL HAIR
Hello, we are HBH Professional, a healthy hair care product line formulated to magnify the health and natural beauty of Black hair. We are here to...